How to teach Understanding Substance Misuse: 2-day CPD workshop
We would like to offer you the opportunity to take part in another of our popular USM-L2 workshops later this year. The 2 day workshop on 'How to teach Understanding Substance Misuse' will be held at Head Office on the 22nd & 23rd March 2019. Read further details and find out how to book.
Upload a tutor CV
How to register candidates
Recognised centres should register candidates using the CPCAB Portal.
Be part of the solution...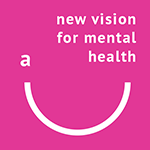 Have you ever wondered what mental healthcare would look like if, knowing what we know today, it could be redesigned from scratch?
A New Vision for Mental Health is an innovative website that seeks to answer this question by taking a critical, informed and constructive look at the current mental health system.
It explores ideas, insights and suggestions – from a wide range of individuals and organisations – that might, in time, lay the foundations for a new and quite different approach to mental healthcare.
Emotion Researcher: History and Beyond – the sourcebook (of the International Society for Research on Emotion) for research on emotion and affect – is one of the latest posts on the New Vision for Mental Health site.