Upload a tutor CV
How to register candidates
Recognised centres should register candidates using the CPCAB Portal.
GDPR update
From 25th May 2018 new data protection laws will be in force in the UK. We are happy to announce that CPCAB is now compliant with the updated requirements of General Data Protection Legislation. Our data protection policy gives more information.
Be part of the solution...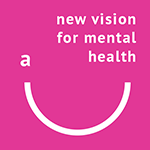 Have you ever wondered what mental healthcare would look like if, knowing what we know today, it could be redesigned from scratch?
A New Vision for Mental Health is an innovative website that seeks to answer this question by taking a critical, informed and constructive look at the current mental health system.
It explores ideas, insights and suggestions – from a wide range of individuals and organisations – that might, in time, lay the foundations for a new and quite different approach to mental healthcare.
The Human Elements of Psychotherapy:A Nonmedical Model of Emotional Healing – described by the publishers as a book which "places common factors, particularly human factors, at the centre and moves modalities and techniques to the periphery" – is one of the latest posts on the New Vision for Mental Health site.