Counselling Skills and Studies: 2nd edition CPCAB book published by SAGE
Counselling Skills and Studies is a book for anyone wanting to learn counselling skills or embarking on their first stage of training to be a counsellor. Written by CPCAB authors Fiona Ballantine Dykes, Barry Kopp and Traci Postings, with an introduction by Anthony Crouch, it provides an ideal 'way-in', showing you what counselling is all about. Save 25% by using use code UKCOUN25 at the checkout.
Upload a tutor CV
How to register candidates
Recognised centres should register candidates using the CPCAB Portal.
Be part of the solution...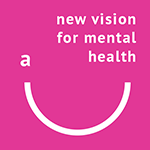 Have you ever wondered what mental healthcare would look like if, knowing what we know today, it could be redesigned from scratch?
A New Vision for Mental Health is an innovative website that seeks to answer this question by taking a critical, informed and constructive look at the current mental health system.
It explores ideas, insights and suggestions – from a wide range of individuals and organisations – that might, in time, lay the foundations for a new and quite different approach to mental healthcare.
To find out more – and to get involved – please visit www.newvisionformentalhealth.com. Access is completely free and open to everyone.