Learner support… new podcast
CPCAB would like to support learners on their counselling training journey and are pleased to have collaborated with Counselling Tutor with a 10-minute section 'Check-in with CPCAB' within their weekly podcast.
Find out more about our weekly podcast and resources
Do you hate role play? Do you wonder why it tends to be a common ingredient of counselling training? This podcast discusses the pros and cons of using role play scenarios or working with own real-life issues.
Be part of the solution...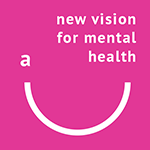 New and interesting things are happening in mental healthcare – find out more about them and help shape a new vision for mental health.
The New Vision website also takes a critical, informed and constructive look at the current mental health system.
It explores ideas, insights and suggestions – from a wide range of individuals and organisations – that might, in time, lay the foundations for a new and quite different approach to mental healthcare.
One of the latest posts on the New Vision site is How And Why Are Some Therapists Better Than Others? - concerning a book that's subtitled "Understanding Therapist Effects".
Upload a tutor CV
How to register candidates
Recognised centres should register candidates using the CPCAB Portal.