Les Greenberg: Working with Current and Historical Trauma Video
Emotion-Focused Therapy (EFT) involves providing an empathic and emotionally attuned therapeutic relationship in which the therapist has their finger on the client's pulse moment by moment.
In this film Les helps the client face an unusual type of complex relational trauma. The client first expresses her anger and sadness to an imagination of her recently severely injured father sitting opposite her. This ultimately leads towards a sense of relief. The session then moves to focusing on the violating experience of betrayal caused by her grandmother who had been abusive towards her father.
Using empty chair dialogue, Les helps the client overcome her fear and disgust and then express her rage by confronting an imagination of her grandmother. This helps the client separate her anger at her grandmother from her anger at her father.
The client comes to see her father in a somewhat different light, sensing his remorse for the hurt he caused her. This helps her to feel less angry at her father and for the seeds of love for him to begin to re-germinate. By the end of the session she hasn't fully let go of her bad feelings towards her father but she has taken the first step towards processing her painful emotions.
The video consists of the following segments:
An Emotion-Focused Therapy session
Commentary about the session from Les Greenberg
Over 40 minutes of bonus content covering EFT's key principles
Running time: 1 hour and 33 minutes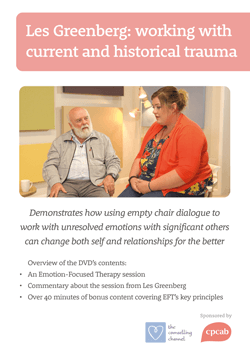 Home study - digital stream


£39.95

Group training - digital stream


£59.95
Buy now

▽
Which edition do I need?
The home study edition permits the purchaser to view or use the video in a personal and private capacity, e.g. private study.
In addition to the above, the group training edition permits the purchaser to view or use the video in a professional, public and/or group capacity.